Resista® Abrasion Resistant (AR) Valve Components
Because each Resista® AR valve component performs a specific and integral function, a sound understanding of each element, along with regular maintenance checks, can help maintain optimal valve performance and ensure valve longevity.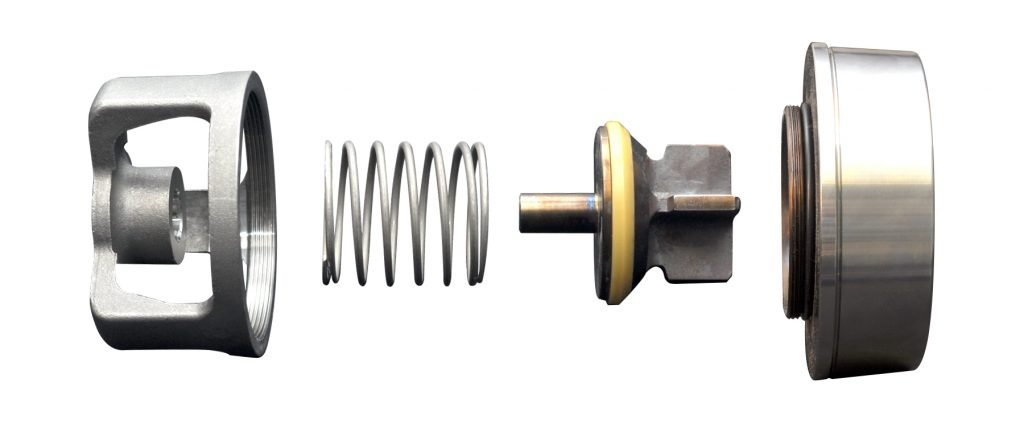 Our Resista® Abrasion Resistant (AR) Valves are comprised of the following essential components:
Cage:  The valve cage provides exceptional stability, alignment, and precise control of the valve member and spring even at excessively high differential pressures. The standard cage is made of 316 stainless steel but other materials may be custom ordered.
Spring: Being the "heart of the valve", the internal spring ensures a smooth and effective opening and closing of the valve. TCPI's Resista® AR valves come equipped with a spring made of Inconel 600.
Valve Member (pictured above, with insert): The valve member is the component responsible for restricting flow through the valve. Either with or without the insert, the valve member is made of the same material as the seat depending on strength, pressure and flow requirements.
Insert: The valve insert acts as an interface between the valve member and the seat. Installed on the valve member (wing), a polyurethane insert is for use in temperatures not exceeding 160oF while fluoroelastomer inserts are available for higher temperature applications.
Lock-Ring: The lock-ring is installed in the thread relief (between threads and flat area) on the seat to ensure proper contact between the cage and seat. This component is constructed from Nitrile (Buna-N) making its high tensile strength and abrasive resistance ideal for petroleum-based oils and fuels.
Valve Seat:  The seat is the interior surface of the body against which the member rests to form the leak-tight seal. TPCI's standard seats are made of 17-4 hardened stainless steel but are also available in 316 stainless steel and other metals upon request.