Durabla® Model V7F Pump Valve
One of our many versatile valve offerings, the Durabla® V7F Pump Valve is a variation of the Durabla® family. It incorporates all of the basic features of the V7H, such as durability and a long operational life cycle, as well as a few additional design elements to accommodate higher volumes of liquid found in some reciprocating pump systems.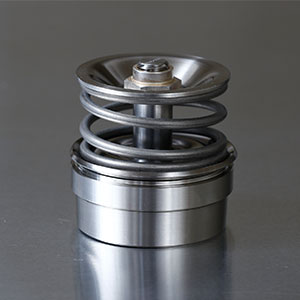 The taller profile of the V7F provides good lift and a spill area for fluid. Its heavier spring provides a prompt valve closure to seal off the flow. In place of the traditional metal formed disc, the V7F is available with an optional Delrin® Disc (Durabla® Model V7FD) – scroll to view >>>.
While efficiency and resilience are built into the design of our Durabla® valves, performing proper installation as well as routine maintenance checks will ensure that your pump valve runs as good as new for many years to come.