Durabla® Model V7H (LOW NPSH) Pump Valve
Triangle Pump Components, Inc. is proud to offer the industry's leading pump valve, the Durabla® V7H. Meticulously designed to provide superior service and a long operating life, the V7H is the most effective valve for Low Net Positive Suction Head (NPSH) applications, when plunger pumps are starved of incoming fluid on the suction side.​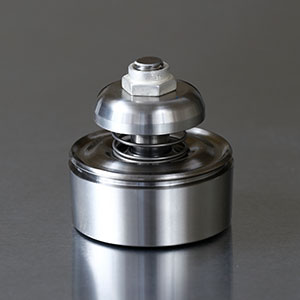 ---
The lightweight metal valve disc of the V7H gives it exceptional service life, significantly outlasting other leading styles of pump valve. Due to its "point contact" with the sleeve, the V7H pump valve opens faster than other styles, in addition to being non-binding, which eliminates any delays in opening and closing during operation. For applications demanding high-speed pumping in rigorous environments, this is a crucial characteristic.
The V7H is hard working, operating efficiently in pumps running up to 600 RPM and at pressures up to 6500 psi. It has a blind tapped deep seat, which eliminates leakage around the stud to ensure optimum flow efficiency in NPSH applications.
Not only is the V7H pump valve durable and efficient, but it is also long lasting; to help maintain its unparalleled operating lifespan, the low sliding friction and inertia of the V7H's disc helps to keep power consumption to a minimum while in use. Long service life is built into the Durabla®'s design; with proper care and maintenance, your valve will operate as good as new for years to come.
The Durabla® V7H Pump Valve is available in pump port sizes ranging from 1-1/2" to 6" diameter to suit a variety of industries and applications.
---
Durabla® Model V7H (LOW NPSH) Pump Valve Part Numbers
| Gardner Denver | Valve Size | S/D | Durabla® V7H Valve Units | Series |
| --- | --- | --- | --- | --- |
| PQ-2A, PS25A, PG-3, PW-3H,PW-3A TQC, GD45T, TQW | 225 | S/D | V1411102 | 5 |
| PS-25C, G, H, PW-3D, E, F, BLOCK F.E. | 150 | S | V1411101 | 2 |
| PS-25C, G, H, PW-3D, E, F, BLOCK F.E. | 225 | D | V1411102 | 5 |
| TA-3B, C, BLOCK F.E. | 150 | S | V1411103 | 2 |
| TA-3B, C, BLOCK F.E. | 225 | D | V1411104 | 5 |
| TA-5H, J, TA-4B,C, F, G, BLOCK F.E., GD180M | 225 | S | V1411104 | 5 |
| TA-5H, J, TA-4B,C, F, G, BLOCK F.E., GD180M | 225 | D | V1411106 | 55 |
| TA5-B, G, TA4-A, E, TA3-A, TAE-BCB, GD100, GD180L | 300 | S | V1411109 | 89 |
| TA5-B, G, TA4-A, E, TA3-A, TAE-BCB, GD100, GD180L | 350 | D | V1411110 | 81 |
| TA-5A, F, TFE, GD-200-T, F, TAEF, TDEA, TFEA, TAEBAA, T200L, GD250T | 400 | S | V1411112 | 10 |
| TA-5A, F, TFE, GD-200-T, F, TAEF, TDEA, TFEA, TAEBAA, T200L, GD250T | 400 | D | V1411113 | 11 |
| PE5-Q, R, W, X, PT-4J, K, PX-5D, E, PE-5AA, BLOCK F.E., TEE-BFA | 225 | S | V1411102 | 5 |
| PE5-Q, R, W, X, PT-4J, K, PX-5D, E, PE-5AA, BLOCK F.E., TEE-BFA | 225 | D | V1411105 | 55 |
| PQ-2B, PS-25F, PQ-2D, PS-WK, TQWABB | 225 | S | V1411107 | 6 |
| PQ-2B, PS-25F, PQ-2D, PS-WK, TQWABB | 225 | D | V1411106 | 66 |
| PA-8N, PE-5E, J, U, PX-5A, PAHAA, PA-8A, R, S, U, PE-5C | 375 | S/D | V1411111 | 10 |
| PT4-A, L, PX5-B, PE5D, F, G, H, K, L, T, V, Y, Z, TEE-BGB | 300 | S/D | V1411108 | 89 |
| TEE-BAA, TEE-BFB, TEE-BJB (TEE w/maximum flow uses AR10A-68) | 350 | S/D | V1411115 | 98 |
| TDD-A | 350 | S | V1411129 | 98 |
| TDD-A | 350 | D | V1411127 | 90 |
| PA-8W, PA-8X, PAHAB, PAHAC | 300 | S | V1411116 | 89 |
| PA-8W, PA-8X, PAHAB, PAHAC | 325 | D | V1411117 | 81 |
| LF5, FFFXF, Duplex | 350 | S/D | V1411118 | 98 |
| FCFXX, FCFXD, FCFJ, FCFC, Duplex | 375 | S/D | V1411803 | 9 |
| FGFXG, FDFXX, FDFXD, FDFS, FDFJ, Duplex | 400 | S/D | V1411119 | 10 |
| FXFXZ, FYFXX, FYFXD, FYFS, Duplex | 550 | S/D | V1411120 | 21 |
| QAFB & QAFBBA | 275 | S/D | V1411114 | 38 |
| QAFC & QAFBCA | 225 | S/D | V1411121 | 36 |
| QAFC & QAFBCA | 400 | S/D | V1411122 | 43 |
| GD-135, QBX, QBXA, TDDB, GD135QLP | 225 | S | V1411123 | 7 |
| GD-135, QBX, QBXA, TDDB, GD135QLP | 225 | D | V1411124 | 7 |
| Gaso | Valve Size | S/D | Durabla® V7H Valve Units | Series |
| --- | --- | --- | --- | --- |
| T-10-4 | 150 | S/D | V1511144 | 2 |
| 3211, 3364, 3364-F, 2321 55T-3M | 175 | S | V1511101 | 3 |
| 3211, 3364, 3364-F, 2321 55T-3M | 200 | D | V1511103 | 5 |
| 3364 (Same size suction & discharge) 55T-3L | 200 | S/D | V1511103 | 5 |
| 3365 | 275 | S/D | V1511108 | 4 |
| 5350-M, 5698-M, 2913-M, 3113-M, 3088-M/MS, 2888-M | 225 | S | V1511104 | 5 |
| 5350-M, 5698-M, 2913-M, 3113-M, 3088-M/MS, 2888-M | 225 | D | V1511105 | 50 |
| 3113-H | 200 | S | V1511103 | 5 |
| 3113-H | 225 | D | V1511104 | 5 |
| 5350-L, 3113-L, 3088-L, 2913-L, 2888-L, 5698-L | 300 | S | V1511109 | 89 |
| 5350-L, 3113-L, 3088-L, 2913-L, 2888-L, 5698-L | 300 | D | V1511110 | 80 |
| 3467, 3580 | 275 | S/D | V1511108 | 7 |
| 3580 (Old Style) Ser. #32492 & Down | 225 | S/D | V1511106 | 6 |
| 3466, 3581, 3868, 3968 | 350 | S/D | V1511112 | 98 |
| 3582, 3969, 3670, 3869 (Serial #33036 & Down) | 400 | S/D | V1511117 | 10 |
| 3583, 3774, 5884, Q-350-2, Q350-5H T200-2 | 225 | S/D | V1511107 | 36 |
| 3671, 3673, 5885WS, 3776WS, 3673WS | 400 | S/D | V1511119 | 10 |
| 3672, 3670 (Serial #33037 & Up) | 300 | S/D | V1511109 | 89 |
| 3775, 5885, T-450-3,Q-350-3, 350Q-5M, T200-3, T250-M | 350 | S | V1511112 | 98 |
| 3775, 5885, T-450-3,Q-350-3, 350Q-5M, T200-3, T250-M | 350 | D | V1511113 | 90 |
| 3776, 5886, Q350-4, 350Q-5L, T200-4, T250-L | 400 | S | V1511119 | 10 |
| 3776, 5886, Q350-4, 350Q-5L, T200-4, T250-L | 400 | D | V1511120 | 11 |
| 601, 602 Simplex | 250 | S/D | V1511130 | 6 |
| 1507, 2017 Duplex | 400 | S/D | V1511131 | 12 |
| 1509, 2019 Duplex | 350 | S | V1511132 | 9 |
| 1509, 2019 Duplex | 400 | D | V1511133 | 10 |
| 1654, 1742, 1755 Duplex | 400 | S/D | V1511119 | 10 |
| 1740 Duplex | 350 | S | V1511134 | 98 |
| 1740 Duplex | 350 | D | V1511135 | 98 |
| 1741 Duplex | 400 | S | V1511119 | 10 |
| 1741 Duplex | 400 | D | V1511136 | 12 |
| 1743, 1753, 2651 Duplex | 400 | S/D | V1511137 | 20 |
| 1844, 2244 Duplex | 300 | S | V1511138 | 89 |
| 1844, 2244 Duplex | 350 | D | V1511139 | 98 |
| 1845, 2245 Duplex | 350 | S/D | V1511140 | 98 |
| 1847, 1849, 1860, 2249, 1550, 2050, 1560, 1563 Duplex | 400 | S/D | V1511133 | 10 |
| 1848 Duplex | 350 | S/D | V1511139 | 98 |
| 1508, 2018 Duplex | 300 | S/D | V1511141 | 89 |
| 1931 Duplex | 350 | S/D | V1511142 | 98 |
| 2652 Duplex | 600 | S/D | V1511143 | 21 |
| National | Valve Size | S/D | Durabla® V7H Valve Units | Series |
| --- | --- | --- | --- | --- |
| J-50-M, J-60-M, J-125-H, J-150-H, 60T-3M | 200 | S | V1811126 | 5 |
| J-50-M, J-60-M, J-125-H, J-150-H, 60T-3M | 200 | D | V1811127 | 50 |
| J-50-L, J-60-L, 60T-3L, 80T-3L | 250 | S | V1811102 | 6 |
| J-50-L, J-60-L, 60T-3L, 80T-3L | 250 | D | V1811103 | 66 |
| J-85-M, J-100-M, 100T-4M 130T-4M | 250 | S | V1811102 | 6 |
| J-85-M, J-100-M, 100T-4M 130T-4M | 250 | D | V1811103 | 66 |
| J-85-L, J-100-L, 100T-4L 130T-4L | 350 | S | V1811118 | 98 |
| J-85-L, J-100-L, 100T-4L 130T-4L | 350 | D | V1811119 | 90 |
| J-125-M, J-150-M, J-165-M, 165T-5M J-200-M, 200T-5M, 300Q-5M, J-250-M, J-275-M, 250T-5M | 300 | S | V1811110 | 89 |
| J-125-M, J-150-M, J-165-M, 165T-5M J-200-M, 200T-5M, 300Q-5M, J-250-M, J-275-M, 250T-5M | 300 | D | V1811111 | 80 |
| J-125-L, J-150-L, J-165-L, 165T-5L, J-250-L, J-275-L, 250T-5L, 300Q-5L, 200T-5L, J-200-L | 400 | S | V1811120 | 10 |
| J-125-L, J-150-L, J-165-L, 165T-5L, J-250-L, J-275-L, 250T-5L, 300Q-5L, 200T-5L, J-200-L | 400 | D | V1811121 | 11 |
| J-375-M, J-625-M, 430T-7M(3-1/2), 625Q-7M, JWS-340L | 350 | S | V1811119 | 10 |
| J-375-M, J-625-M, 430T-7M(3-1/2), 625Q-7M, JWS-340L | 350 | D | V1811117 | 11 |
| J-375-L, J-625-L, 625Q-7L, J-625-7L, 430T-7L | 550 | S | V1811128 | 19 |
| J-375-L, J-625-L, 625Q-7L, J-625-7L, 430T-7L | 550 | D | V1811129 | 19 |
| F-15-M | 150 | S/D | V1811130 | 2 |
| F-15-L, F-30-S | 175 | S/D | V1811131 | 3 |
| F-30-L, F-60-S (Serial #500 & Up) | 250 | S/D | V1811132 | 6 |
| F-60-S, (Serial #499 & Down) | 250 | S/D | V1811133 | 6 |
| F-90-S (Serial #299 & Down) | 300 | S/D | V1811134 | 89 |
| F-90-S (Serial #300 & Up) | 300 | S/D | V1811135 | 89 |
| F-90-L | 400 | S/D | V1811136 | 10 |
| D-50 Duplex | 400 | S/D | V1811137 | 10 |
| C-150 Duplex | 550 | S/D | V1811138 | 21 |
| Union | Valve Size | S/D | Durabla® V7H Valve Units | Series |
| --- | --- | --- | --- | --- |
| SX-3, DX-5, TX-10 1 1/2″ Cyl. (Plunger Size 1 1/8″ To 1 5/8″) | 150 | S/D | V2011101 | 2 |
| TD-50, TD-60, QD-100 1 1/8″ Cyl. | 175 | S/D | V2011115 | 3 |
| TD-50,TD-60, QD-100 1 3/4″ Cyl. | 200 | S/D | V2011104 | 5 |
| TD-50, TD-60, QD-100 2 1/2″ Cyl. | 250 | S/D | V2011105 | 6 |
| TD-120, QD-200 "B" CYL. | 250 | S/D | V2011107 | 36 |
| TD-120, QD-200 "C" CYL. | 400 | S/D | V2011108 | 15 |
| TD240,QD-400,QD-700 *5.50″ Flg f/ QD400 C Cylinder | 400 | S/D | V2011512* | 10 |
| TX-75 | 250 | S/D | V2011109 | 98 |
| TX-150 | 350 | S/D | V2011116 | 98 |
| TX-125, QX-300 | 400 | S/D | V2011122 | 12 |
| TX-150L | 525 | S/D | V2011525 | 25 |
| 5.5×3.5×5 (Threaded Seat) Duplex | 275 | S/D | V2011117 | 4 |
| 6.5×12 (Threaded Seat) Duplex | 275 | S/D | V2011118 | 4 |
| 6x4x6 (Threaded Seat) Duplex | 350 | S/D | V2011119 | 98 |
| 7×3.5×10 (Threaded Seat) Duplex | 300 | S/D | V2011120 | 8 |
| 10×7.5×12 (Threaded Seat) Duplex | 400 | S/D | V2011121 | 10 |
| Wheatley | Valve Size | S/D | Durabla® V7H Valve Units | Series |
| --- | --- | --- | --- | --- |
| P-50, P-100, P-175, P-200 | 175 | S | V2111103 | 3 |
| P-50, P-100, P-175, P-200 | 175 | D | V2111104 | 3 |
| P-50A, P-100A, P-200A, 5P-200A, P-200B, T-230, T-225M/AL/AM/LS, 2S-1M/L, 5S-2M/L, 11D-2M/L, 22T-2M/L, 32T-2M/L, 31Q-2M/L | 175 | S/D | V2111103 | 3 |
| P-313, 5P-313, P-200-H, HP-200-H | 175 | S | V2111101 | 2 |
| P-313, 5P-313, P-200-H, HP-200-H | 225 | D | V2111102 | 5 |
| P-300, 5P-300 | 250 | S | V2111105 | 4 |
| P-300, 5P-300 | 175 | D | V2111103 | 3 |
| P-300A, 5P-300A | 225 | S | V2111106 | 5 |
| P-300A, 5P-300A | 175 | D | V2111103 | 3 |
| P-323, 5P-323, HP-125M, 59T-3M, 103Q-3M, 110Q-3M, T-365M, T-385M, Q-3115AM/MS | 225 | S/D | V2111106 | 5 |
| P-330, 5P-330 | 325 | S | V2111110 | 8 |
| P-330, 5P-330 | 250 | D | V2111105 | 4 |
| P-330A, 5P-330A, HP-125-L, 103Q-3L, 100Q-3L, T100-4, HP-100L, HP-115L, HP-165L, T140-4, HP-200L, T-4140L,133T-4L, Q-4240L, 101T-4L, 217Q-4L, 163Q-5L | 325 | S/D | V2111110 | 8 |
| P-364 | 225 | S | V2111106 | 5 |
| P-364 | 250 | D | V2111105 | 4 |
| HP100M, HP115AM, HP165M, HP115AM, HP165M, 101T-4M, HP200M, T4140M, Q-4240M, T100-3,163Q4M, T140-3, 103Q-3M, 110Q-3M, 133T-4M, 217Q4M | 250 | S/D | V2111105 | 4 |
| HP-100L, HP-165L, 101T-4L, 133T-4L, 163Q-4L, 217Q-4L, T100-4 | 325 | S/D | V2111110 | 8 |
| HP-160H, HP-225H, HP-250H, HP-360H, HP-375H, HP-600H, 184T-7H, 308T-7H, 543Q-7H, HP-300H, 133T-4H, T140-2 | 300 | S | V2111118 | 89 |
| HP-160H, HP-225H, HP-250H, HP-360H, HP-375H, HP-600H, 184T-7H, 308T-7H, 543Q-7H, HP-300H, 133T-4H, T140-2 | 300 | D | V2111119 | 80 |
| HP160M, HP225M, HP250M, HP300M, 133T4M, HP360M, HP375M, HP600M, 184T-7M, T140-3, 308T-7M, 543Q-7M, Q-7600M, T-7340M | 300 | S/D | V2111113 | 98 |
| HP-160L, HP-225L, HP-250L, HP-300L, 133T4L, HP-360L, HP-375L, HP-600L, 184T-7L, T140-4, 308T-7L, 543Q-7L, Q-7600L, 7340L | 400 | S/D | V2111116 | 12 |
| T4140M, Q4240M | 400 | S/D | V2111105 | 4 |
| T4140L, T4240L | 325 | S/D | V2111110 | 8 |
| P-610 | 250 | S | V2111109 | 7 |
| P-610 | 225 | D | V2111106 | 5 |
| P-610-B | 325 | S | V2111110 | 8 |
| P-610-B | 225 | D | V2111106 | 5 |
| P-630 | 400 | S | V2111111 | 12 |
| P-630 | 250 | D | V2111105 | 4 |
| P-640 | 375 | S | V2111115 | 17 |
| P-640 | 300 | D | V2111113 | 9 |
| P-640-A, P-540-A | 400 | S | V2111116 | 12 |
| P-640-A, P-540-A | 300 | D | V2111113 | 98 |
| P-650 | 400 | S/D | V2111120 | 20 |
| QT-630 | 400 | S/D | V2111121 | 12 |
| 3P-450 | 400 | S | V2111122 | 12 |
| 5P-450 | 400 | S/D | V2111124 | 12 |
| 535, 333, 33R, 1824 Duplex | 250 | S/D | V2111105 | 4 |
| 1024, 1324, 7024 Duplex | 350 | S/D | V2111125 | 98 |
| WBA Duplex | 350 | S | V2111126 | 9 |
| WBA Duplex | 350 | D | V2111127 | 10 |
| WBF Duplex | 400 | S/D | V2111127 | 10 |
| 1150, 2050, 2150, 2150-A, WBO, 6050-B, 7036-P Duplex | 400 | S/D | V2111128 | 10 |
| 7036, 6050, 5830 Duplex | 400 | S/D | V2111129 | 12 |
| 1036DA, 5850DA Duplex | 400 | S/D | V2111130 | 12 |
| WBC, WBD, WBL, 1570, 2070, 2170, 2170A, 2180, 2180A | 400 | S/D | V2111131 | 12 |
| 7 1/2 x 10 Duplex | 400 | S/D | V2111132 | 12 |