Our Fortis MC Ceramic Plunger
Fortis MC ceramic plungers are manufactured from zirconia oxide, silicon nitride, or alumina oxide ceramic materials. Among the primary benefits of ceramic plungers is their resistance to saltwater, oil, and some chemical solutions. This characteristic makes ceramic plungers ideal for the medical, food and beverage, petrochemical, and specialty chemical industries where there are tight regulations regarding fluid contamination.
These ceramic plungers inherit the hard and wearable nature of their ceramic parent material, making them more durable than metal coated plungers when used in ideal conditions. The relatively low density of this material also makes it lighter and easier to manage, repair, and maintain than metal-coated plungers.
Fortis MC ceramic plungers also tend to be more efficient due to their seemingly self-lubricating nature. Ceramics have a lower coefficient of friction than metal, resulting in less sliding resistance of the plunger and reduced wear during prolonged operation.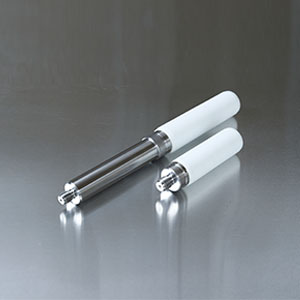 Our Fortis MC Metal-Coated Plunger
Fortis MC metal-coated plungers are most commonly used in reciprocating pumps due to their relatively low cost compared to ceramic plungers. These metal-coated plungers are also a highly customizable in terms of material, and most of the standard material options are widely available. Various metal alloy compositions and grades can be used to create plungers specifically suited for different demanding situations.
In terms of mechanical properties, the Fortis MC metal coated plungers possess higher strengths than ceramic plungers, allowing them to resist significant amounts of thermal shock, abrasion, vibration, and impact forces. Common alloys used in the construction of metal-coated plungers include Colmonoy, Tungsten Carbide, and Wallex. TPCI can custom manufacture plungers from other metal alloys for unique applications upon customer request.
Fortis MC metal-coated plungers are used across a broad range of industries in numerous applications. Some sectors in which metal-coated plungers are commonly used include the chemical, marine, mining, nuclear, and oil and gas industries.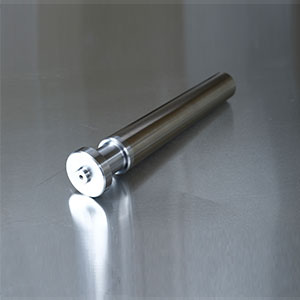 Fortis MC Ceramic Plunger
Zirconia oxide
Silicon nitride
Alumina oxide
Saltwater
Oil
Some chemical solutions
Medical
Food & beverage
Petrochemical
Specialty chemical
Low density
Lightweight
Easier maintenance
Durable
---
Fortis MC Metal-Coated Plunger
Colmonoy
Tungsten carbide
Wallex
Additional alloys
Thermal shock
Abrasion
Vibration
Impact
Chemical
Marine
Mining
Nuclear
Oil & gas
Low cost
Wide, customizable material range
High mechanical strength