Optimus CP® Plunger Packing & TriVis® Stuffing Box Components
Optimus CP® Plunger Packing
Packing plays a major role in the assurance of adequate down-stream pressure. In a plunger pump, the packing is stationary and contained by the stuffing box thus providing a seal around the plunger and/or extension rod. Triangle Pump Components Inc. supplies packing for both the fluid end and power end.
Optimus CP® die-formed packing, for extreme service or high temperature conditions, is manufactured by TPCI from the highest grade braided packing material. PTFE, Graphite, and Kevlar® cornered are some of the materials used in the spring-loaded or die-formed style of packing. Optimus CP® die-formed packing is used mainly for fluid end (plunger) packing.
Triangle Pump Components Inc. also carries the top brand name in Utex® 838 style packing as well as various sizes of individual pressure rings and header style packing for general service applications.
---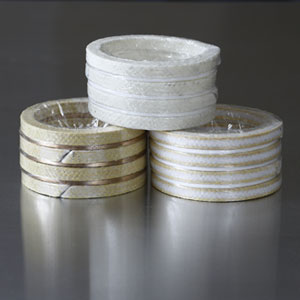 TriVis® Stuffing Box Components
Proper alignment of the plunger is critical to an extended wear life and correct flow conditions. The TriVis® Stuffing Box Component tolerances assure that the plunger will be in motion at the correct angle to reduce wear and maintain adequate pressures.
Triangle Pump Components Inc. manufactures the TriVis® Stuffing Box Components for the majority of plunger pumps. These components are made to OEM specifications of either brass, 316 Stainless Steel, or other customer preferred materials. Close tolerances are adhered to so that proper plunger alignment and long packing life can be maintained.