This year TPCI celebrates 100 years providing quality products, reliable support, & expert solutions.
Since 1919, Triangle Pump Components Inc. (TPCI) has been manufacturing efficient, long-lasting, and dependable pump products. To better understand why TPCI has been successfully thriving for over a century, Vice President and General Manager, Sam Kelton, shares his knowledge of the history and foundation of the company. "Innovation and quality are the two Hallmarks of the company," explains Kelton.
At the birth of the company, a gentleman named George Kaufman invented and filed a patent for the Durabla® pump valve disc. Designed for steam pumps, it was built with a wavy disc design, which was superior due to the strength of the waves stamped into the disc. The unique stamping process made it nearly impossible to break during service. With steam pumps being so prevalent at the time, Kaufman discovered that the problem people had been having keeping these pumps running was because of disc breakage. Seeing this problem and finding a solution in this wavy disc design helped pave the path for Durabla Manufacturing Company (now Triangle Pump Components Inc.) to become the leader in the pump valve market.
In 2004, Durabla Manufacturing Company was renamed Triangle Pump Components Inc. While the Durabla® pump valve line will always be a staple, the company needed to expand their product lines, further growing in the industry. Even though the original 1919 patent expired a long time ago, it is still used to make TPCI's wavy discs used on pump valves today. "We have a process that we use to make these discs – a process which others have found difficult to duplicate," states Kelton. "We have our own little bit of magic on how we do it – the way we stamp and treat the disc – they can't seem to duplicate that. Their discs just don't hold up, and that's the heart of the valve."
There has always been an emphasis on quality from the very beginning of the company continuing on through today. Quality is built into the products and systems. Maintaining a quality management system internally has allowed TCPI to stay ISO-Certified since 2005. "We're not the biggest company in the industry, but our niche in the market is that we're known for quality," shares Kelton.  "Back in the 70s, I was working for a major oil field supply company that manufactured its own line of pumps, and I used to take the Durabla® valve to my customers and explain to them how this is the best pump valve available. It is ironic now being the head of the company whose engineered products I had been pushing decades ago because of their quality. The pump valve that TCPI manufactured back then is still the most efficient pump valve in the market today."
While the growth of the company has been attributed to "word of mouth", TCPI is proud to have ongoing, decades-long relationships with pump manufacturers and OEMs – some affiliated for over 60 years! "The reason manufacturers are still using our products is because of our consistent quality," declares Kelton. "No matter what we did… no matter how we approach the market, quality had to be maintained and we have done that. We stand behind our products and provide solutions for our customers rather than just producing a plain 'vanilla' valve."
This significant milestone has also been reached because of TCPI's dedicated and extremely talented employees. The company has worked hard over the past ten decades to take care of its workers, providing benefits and a positive working environment. "We cultivate a very open atmosphere here where the employees are free to contribute if they have suggestions or if they see a way to improve the company, they are free to voice it," says Kelton. "We have a family feeling here, and we focus on the long-term. That helps us maintain our experienced workforce so we have a great deal of stability, which translates to the company being able to consistently produce quality products. Being around as long as we have gives us a very long-term point of view for taking care of our employees, and having our employees take care of our customers."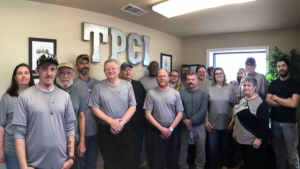 (pictured:  some of our employees in Oklahoma City OK and Cleburne TX)
On behalf of Triangle Pump Components Inc., we want to thank you for helping us get to 100 years and we're looking forward to 100 more!