In our industry there has been a shift from the somewhat standard pumping system requirements of the 60's and 70's to specifications that are more demanding and application specific. Today's pumping system professionals are forced to find innovative means of increasing system output, albeit marginally, to meet the ever increasing demands of their markets. As performance expectations rise, so does the demand for valves that leverage price with increased performance. There hasn't been a realistic and cost efficient solution to this problem until now.
Triangle Pump Components Inc. (TPCI) has responded by introducing the WG Sphera™ series of spherical valves.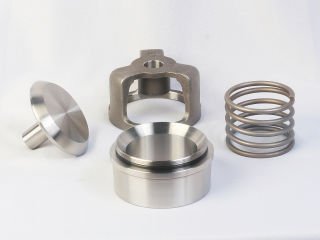 The WG Sphera™ series is one of our most flexible valves. Whether you work with clean, abrasive, hot, or cold fluids, WG Sphera™ valves are sure to get the job done. When compared to traditional plate and abrasion resistant style valves, the WG Sphera™ valve offers:
up to 44% increase in flow area
up to a 31% increase in fluid GPM through valve
customizable for use in low and normal suction pressure systems off the shelf or in the field.
improved responsiveness under high speed operation.
These performance improvements are offered at a price that is comparable to what you would expect for a similar abrasion resistant style valve. The WG Sphera™ valve is available and suitable for use in pumps from common and trusted reciprocating pump manufacturers such as GASO, Wheatley, Oilwell and Gardner Denver.
For 100 years, TPCI has built a reputation for manufacturing efficient, long-lasting, and dependable pump products. This tradition of quality continues with the WG Sphera™a series of spherical valves.
Learn more about our WG Sphera™ series here or contact us today to address your specific needs.