Valves are used in industrial pumps to control the flow of fluid through modifying the passageway. These valves regulate pressure and prevent breakage and damage to the pump while maintaining a geometric flow.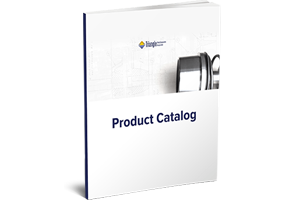 There are a variety of valves available for the different types of pumps based on their primary applications and environmental conditions. Two of the most durable kinds of valves used by industry professionals are plate pump valves and abrasion-resistant valves.
Abrasion-resistant valves, also known as AR valves, are suitable for pumping systems in high pressure and high-temperature environments. Another commonly used valve is the plate pump valve which is designed for highly demanding plunger pump conditions.
However, to understand the purpose of the AR valve and plate valve, it's vital to grasp what exactly these valves do that makes them appropriate for heavy wear and when they are necessary to use.
AR Valves
The abrasion-resistant valve is specially designed for harsh environments and heavy applications where abrasive conditions may exist. One of the most important factors of abrasion-resistant valves is that they do not clog.
These abrasion-resistant valves ensure that there is no build-up of media and also prevent the valve from not fully opening or closing. These stainless steel based valves are durable enough to pump abrasive material such as acid, chlorine, and hazardous chemicals.
Using such valves can help avoid risks of leakage and prevent premature failure caused by harsh substances. Abrasion-resistant valves with polyurethane insert are highly recommended for operating temperatures at 160°F or less. The use of corrosion-resistant alloys is ideal for pump environments containing small solids that may otherwise affect the pump's overall efficiency.
Plate Valves
Plate pump valves are used for rigorous applications and environments and can have either one or two springs. The double sprung valve has abilities to operate under pressures up to 15,000 psi and can pump gasoline, ammonia, hydraulic fluid, and tons of other corrosive materials.
Plate valves work by allowing a disc to move between the seat and valve cover permitting liquids to flow in a single direction and stopping the flow in the opposite direction. The material used for the valve's sealing plate can determine the handling pressures and cycle speeds valves can reach.
These valves come in numerous different sizes so they can be correctly installed into a particular system. Plate valves include a retainer that houses the springs, a bolt, sleeve, valve plates, and the valve seat. Utilizing these types of valves allows for a reduced use of energy while increasing the quality of production. Plate valves are best suited for suction and discharge in reciprocal plunger pumps.
Learn More
Understanding valve mechanisms and their uses for a range of pump applications can be beneficial for cost and production results. Triangle Pump Components provides expertly designed and engineered parts to support pump systems that lead in industry and specialty standards. For more information about which type of valve is best suited for your application, contact Triangle Pump Components today.
For a video view of this post, click play below: