As we navigate the new year, Triangle Pump Components Inc. is happy to share that we are growing (again) with additional staff and in physical space. "Demand is increasing in all our product lines and stretching our current resources to the point where we believe we had to make this commitment in order to better serve our customers in the future" per Sam Kelton, Vice President/General Manager.
Construction began in September 2021 for expanding both the manufacturing and shipping/receiving areas at the Cleburne valve manufacturing facility and was completed by year end. Expanding the valve manufacturing area was necessary to accommodate the new machines which were needed due to the increased workload. According to Jon Edson, Production Manager, "the machines' newer technology (including robotics) allows them to be 30-50% faster" and results in a much higher output of valve components.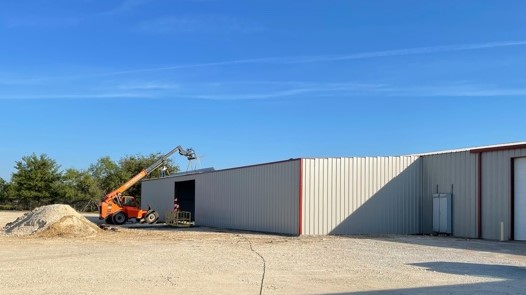 TPCI Machine Shop Addition
TPCI Shipping/Receiving Addition
"The amount of work also requires doubling our inventory capabilities" per Jon. The enlarged shipping/receiving area will allow for more "on hand" inventory so our reciprocating pump valve parts can be ready for immediate shipping to ensure our customers can obtain their products quickly.
Growth tends to have a chain reaction effect, as more sales can lead to more machines that require additional staff. New employees were added to aid in coating, grinding, and machining at our plunger and packing manufacturing facility in Oklahoma City OK and as the Cleburne TX facility expanded, so did the need for more staff there.
Among those, we would like to introduce Tracy Curtin, our Applications Engineer. Joining the TPCI team on December 6, 2021, Tracy brings 21 years of experience in production and sales of pump expendables and pulsation equipment. He is splitting his office time between Cleburne and Oklahoma City each week to support both facilities. Read more about Tracy on our website.
Being in business for over 100 years, TPCI has persevered through many tough times and, despite the challenges of the past two years, continues to grow. We look forward to helping our customers do the same by providing quality products they can rely on in a timely manner.