With Manufacturing Day fast approaching on Friday, October 6, the team at Triangle Pump Components Inc. is taking some time to reflect on this past year, both in terms of our own achievements and throughout the world of manufacturing.
Celebrated annually on the first Friday of every October, Manufacturing Day aims to recognize the many ways this diverse field shapes everyday life while inspiring future generations to enter the manufacturing industry.
Every year, thousands of manufacturers open their doors to their communities to show how industrial processes work, explain how manufacturing drives everyday life in America, and educate people on the importance of a thriving manufacturing sector. Everyone from students and educators to businesspeople, politicians, and media outlets are invited to these events. Many manufacturing organizations even host tours for prospective and current engineering students, allowing them a closer look at industrial operations and offering a glimpse into exciting potential career paths.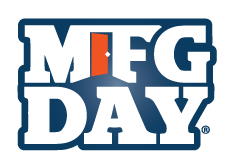 Last year's Manufacturing Day brought together over 595,000 participants — over 267,000 of whom were students — allowing people to learn about the many career options in the manufacturing world and explore how far the industry has progressed in terms of diversification and environmental initiatives. With the older generation of manufacturing workers nearing retirement age, a new generation of students and professionals now has access to a wide range of opportunities.
As of June 2017, signs of progress in the manufacturing world were especially apparent; between May and June, 2,800 jobs were added in the electrical equipment and appliances industry, 2,300 jobs were added in the primary metals industry, and 1,000 new jobs were added to the computer and electronics products sector. The machinery field showed even more promise, with 3,500 new jobs — the most of any sector within the manufacturing field — added from May to June. And this past April, the number of workers in the food manufacturing sector reached its highest point since 1990.
In geographical terms, the South saw an expanding workplace in May, with the addition of 1,400 new jobs. North Carolina, Texas, and Alabama, in particular, saw impressive spikes in hiring activity — promising signs for the new generation of U.S. manufacturers.
Triangle Pump Components has been a part of the manufacturing world since 1919, and our industry-leading reciprocating pump valves and components serve clients across all types of industries. Our company has continued to thrive through our commitment to constant and innovation and continuous improvement, and we're excited to welcome the next generation of manufacturers into this dynamic field.
To learn more about our manufacturing history and explore our product line, check out our comprehensive company brochure today.