Comprised of a disc and a seat, plate valves are an essential component in many types of pumping operations. The disc moves between the seat and retainer in relation to the variations in fluid pressure on its sides, thereby controlling the pressure flow. Other plate valve components include the bolt, the springs, and the plate.
Plate valves are often used in harsh applications, so the valve disc and plate must be highly durable and long-lasting.
At Triangle Pump Components, we provide plate valves with either a Delrin® or titanium plate, each offering its own unique properties and benefits for various severe-condition or extreme-environment applications.
These valves are built to withstand a wide range of abrasive and corrosive pumping materials including gasoline, ammonia, hydraulic fluid, sulfuric acid, and petrochemicals.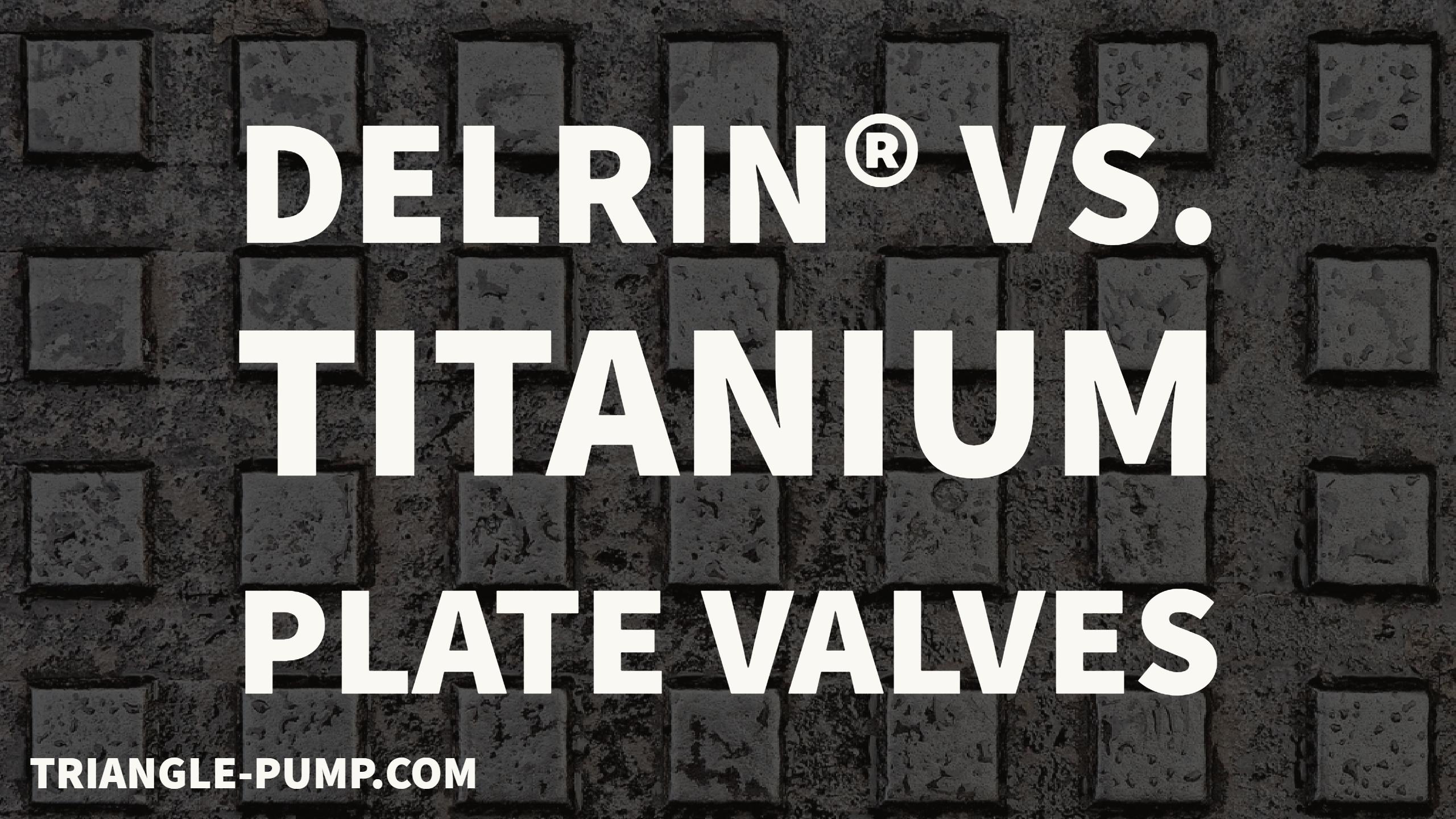 Delrin® can reach handling pressures as high as 1500 psi; titanium as high as 10,000 psi for 1.5" to 2.75", 7500 psi for 3.0" to 3.75" valves and cycle speeds as high as 500 rpm.
While both Delrin® and titanium plates offer superior strength and longevity, it's important to choose materials based on specific application requirements, as this will help ensure the success and reliability of overall pumping operations.
An engineered thermoplastic used in precision parts requiring high stiffness, low friction, and excellent dimensional stability, Delrin® allows for flexibility in valve plates, allowing them to slightly adjust in order to better acclimate to the valve seat, even after long periods of activity in busy work environments.
Generally, Delrin® plate valves are ideal for processes requiring somewhat lower pressure ratings. Unfortunately, these valves are susceptible to degradation by chlorine or other mineral acids.
Titanium offers a better solution for pumping applications requiring high pressure ratings and ultimate durability; titanium has the highest strength-to-density ratio of any metallic element and is extremely resistant to corrosion caused by seawater, aqua regia, and chlorine, as well as attack by dilute sulfuric and hydrochloric acids, chloride solutions, and most organic acids.
Atmospheric and environmental conditions have minimal effect on titanium plate valves, making them well-suited to high-stress environments requiring optimal strength.
At Triangle Pump Components, our engineers work with clients throughout the decision-making process to determine the ideal plate valve material for specific pumping applications.
Whether requiring the flexible strength of thermoplastic or the durability of metal, clients are guaranteed optimal quality and longevity, and our team will advise on how to best optimize each material.
Triangle Pump Components valves are designed to be long-lasting, but it's also important to note that proper valve installation is critical for maximizing operating efficiency and extending the service life of pumping systems; we can help clients throughout installation processes as well.
To learn more about our plate valve options or discuss how we can help with your next pumping project, contact the team today. Our experts are on hand to answer any questions.